WORKBENCHES
Built Right! Built the Canadian way!
Western Canada's premium supplier and manufacturer of quality workbenches for the farm, mechanic shop, implement dealer and you name it.. Our benches come in a variety of sizes up to 16′ in length..Built tough to last a lifetime.
Please browse our site, check out what we have to offer and give us a call. Our number is on our contact page.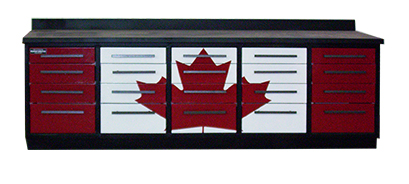 SOLID STEEL DRAWERS
Built so tough that you can actually stand in them. Our drawers are constructed of 16 gauge steel with 4 roller bearings per drawer. Built tough, built Canadian, built for you.
Our COUNTERTOPS are constructed with 10 gauge steel formed over 2×10's. This gives you a very solid top with the ability to mount a vise anywhere you choose. COUNTERTOPS are also available in stainless steel.
We have many different configurations and colours to choose from. Increase your efficiency and build your dream shop, the one you deserve and the one you always wanted. Diamond Industries Ltd. specializes in helping you stay organized in your shop all day long.
Save valuable time and money! You can organize your shop and find what you are looking for…. everytime. Time is money… put it in the bank.
Need more space? You can add upper cabinets for more storage capacity. You can choose the colour you want with the configuration you want to get it just right.
Diamond Industries Ltd… for all your workbench needs!
DIAMOND INDUSTRIES is now a manufacturer and distributor of POWERLIFT HYDRAULIC DOORS. Check out the links provided..
         Do you need drawers? Lots of drawers?
We can help you choose the size and style of bench you need along with the drawer configurations. It's easy to add pieces of different sizes to get it to fit just right in your shop.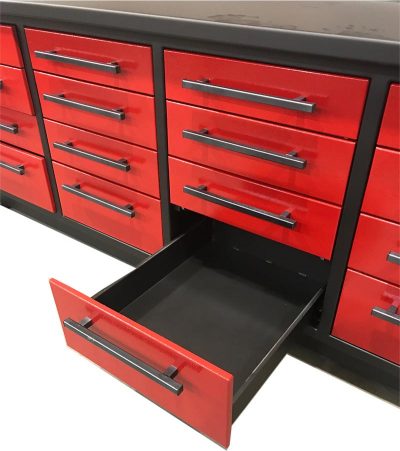 DIAMOND INDUSTRIES is now a supplier and manufacturer for Powerlift Hydraulic Doors. Not only can we supply your tool bench needs but can now supply you with that overhead door you always wanted. When you are thinking of outfitting your shop… think DIAMOND INDUSTRIES.…workbenches and overhead doors.
Powerlift Doors of British Columbia is located in in our shop in Canyon, BC.  We serve all of central and southern BC including the Islands.  For several years we had been looking for another project to add to our manufacturing business.  We felt Powerlift Hydraulic Doors would be a good fit . We are excited about the future with Powerlift Hydraulic Doors and look forward to serving our customers with our new and expanded services.
For more information on financing your purchase with Diamond Industries Ltd.
Calculate your payments here